‹ Back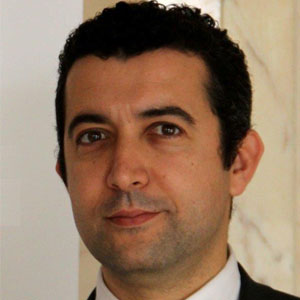 Prof. Jauad
El Kharraz
Head of Research / General Secretary, MEDRC Water Research
CV
Summary
Has more than 16 years of international experience (Spain, France & Oman) in Water management issues, mainly Water Information Systems, Remote Sensing applied to environment, drought monitoring, desalination technologies, water-energy-food nexus and environmental issues. He has been collaborating closely with Euro-Mediterranean ministries of water, and also other water actors in the MENA region. Dr. El Kharraz is launching and managing several research projects with focus on environmental challenges in Oman and the GCC-MENA region.
Professional and Working experience
Head of Research, The Middle East Desalination Research Center (MEDRC), Oman
Expert Evaluator, Palestinian-Dutch Academic Cooperation Program on Water (PADUCO)
Projects Manager, Euro-Mediterranean Information System on know-how in the Water sector, France
Information & Data Manager, Euro-Mediterranean Information System on know-how in the Water sector, France
Co-Author of the UNESCO Science Report 2015 (Arab World Chapter), France
Evaluator and Reviewer of Projects proposals, Kuwait Foundation for the Advancement of Sciences (KFAS), Kuwait
Founding Curator of Nice Hub for Global Shapers, World Economic Forum, France
French National MC Member & Leader of Networking WG [TN1301 FR] to COST Action TN1301, COST: Intergovernmental framework for European Cooperation in Science and Technology, Brussels
Expert Evaluator, DG Research & Innovation, European Commission, Brussels
Task Force & Founding Member, Islamic World Academy of Young Scientists (IWAYS), ISESCO, Rabat (Morocco)
New Leader for Tomorrow, Crans MONTANA Forum, Switzerland
General Secretary (& co-founder), Arab World Association of Young Scientists (ArabWAYS CIC) London, UK
Member & Water panel co-leader, WANA Institute, Jordan
Senior Consultant, SUD-CONVERGENCES (Project on Water Training Center in Saudi Arabia), France
Researcher & Senior Researcher, Global Change Unit, University of Valencia, Spain
Education & Qualifications
PhD degree in Physics from the Earth Sciences department, University of Valencia, Spain
MSc Degree in Physics from the Earth Sciences department, University of Valencia, Spain
Diploma in Enterprises Management & Strategy from SKEMA European Business School, France
Certificate in Water and Sanitation, by Chinese Academy of Sciences (CAS) -TWAS Centre of Excellence for Water and Environment" (CAS-TWAS CEWE)
Diploma in European external aid projects and the logical framework Benchmarking, Welcome Europe, Brussels, Belgium
Abstract
Abstract:
As the only surviving organization of the "Oslo Accords," The Middle East Desalination Research… (
more
)
As the only surviving organization of the "Oslo Accords," The Middle East Desalination Research Center (MEDRC), was established as a research and capacity building institution in 1996. It was a direct result of the Water Working Group of the multilateral track of the Middle East Peace Process (MEPP). MEDRC's mission is to contribute to peace and stability in the Middle East and North Africa by promoting and supporting the use of desalination and water reuse technologies to satisfy regional needs for available, affordable, clean, fresh water. It does so by supporting research, capacity building, technology transfer, institution building, and cooperation between countries to form joint projects and international relationships.
MEDRC is a unique international organization where ten co-equal partners work together on solutions to fresh water scarcity by supporting research, training, knowledge exchange and capacity building.
MEDRC maintains a strong and unique tri-lateral cooperation program in the field of desalination and water reuse. It also organizes partnerships, round table workshops, and professional courses on these topics.
Abstract
Abstract:
The integrated perspective provided by the Water- Energy Nexus may help meeting the needs of water… (
more
)
The integrated perspective provided by the Water- Energy Nexus may help meeting the needs of water use, by stimulating appropriate investments in the MENA region, on the basis of consistent and effective water policy and governance. A nexus conceptual approach for the Arab region should take into consideration the scale of analysis and existing institutional and policy frameworks. It should also consider the ways in which technology can improve the ability to achieve water and energy in a more efficient and integrated manner that is people-cent red and based on human rights. An analytical framework that builds upon existing policy instruments and initiatives is required. It should include integrated water resources management and sustainable energy for all. It can also help tackle complex challenges that obstruct water, and energy security, including shared water resources management and decision-making related to energy efficiency.    
Applying the water-energy security nexus in the MENA region requires a vision based on shared principles that can be accepted by all MENA countries despite differences in their natural resources and socioeconomic capital. Hence, the proposed analytical framework is set within the context of achieving sustainable development goals (SDGs) and can be applied through a set of human rights based principles to ensure water and energy security for all. 
Jordan as you know is one of the World's scariest water regions, so this makes water security a real challenge, and because of the obvious interlinkage between water security and energy security, the WE nexus is for Jordan a strategic choice. From this, Jordan and the countries of the region can offer a unique perspective to the world on how we can overcome the enormous challenges of water and energy despite the serious scarcity in resources. Some projects developed in Jordan and the region could be real success stories for the rest of the world, I can mention for instance: the "Sahara Forest Project", which aims to provide fresh water, food and renewable energy in hot, arid regions as well as re-vegetating areas of uninhabited desert, and the Red-Dead Sea project which is designed to both resupply the Dead Sea with water from the Red Sea and provide drinking water to the region's inhabitants through desalination. In addition, "Renewable Energy for Wastewater Treatment and Reuse in Agriculture" project, where the integrated approach for managing the Water-energy-food nexus is well-illustrated in the utilizing of renewable energy for wastewater treatment at Khirbit As-samra wastewater treatment plant in Jordan. The plant is a good example of cost-effective performance since it operates at 18% of the operating budgets, compared to global figures which range between 25-40%.
Abstract
Abstract:
Last month I have organized a ceremony to deliver my organization award to the young Omani… (
more
)
Last month I have organized a ceremony to deliver my organization award to the young Omani researchers in water, and all the finalists were women including the winner! The Dutch Ambassador who sponsored the award asked if we didn't allow male candidates to apply! Actually, this is not a surprise. The share of women graduating as engineers has risen in the Arab States. One in two researchers (53%) in Oman is a woman! and in the United Arab Emirates and Palestine (31%), and Algeria (31%). Morocco has increased the share of female students to more than 40%. More Arab women than men are graduating in science, but not at all are finding their way into postgraduate research or into the workplace. Hence, efforts should be made to increase female participation in the fields of science and technology, and that workplaces be made more attractive to women.
On the other hand, women are not represented equally in the key climate-change related sectors of science as skilled workers, professionals or decision-makers. Although they are fairly well represented in some related science disciplines – including health, agriculture and environmental management – they are very much a minority in other fields that will be vital for the transition to sustainable development, such as energy, engineering, transportation, information technology (IT) and computing – the latter being important for warning systems, information-sharing and environmental monitoring. Even in those scientific fields where women are present, they are underrepresented in policy-making and programming.
We have for instance wonderful women innovators and entrepreneurs in all fields including science, but I am not sure we take fully advantage of their leadership to contribute to the culture of change that we need. We need to motivate women scientists to participate in the workforce include introducing policies such as parental leave and flexible working hours for female graduates. We need to encourage qualified Arab women to pursue careers in science and to highlight success stories and leaders among women scientists via conferences such as this one, workshops and industry events, and to give female graduates opportunities to engage with these successful women scientists at first hand. Mentoring and role-model initiatives should also be enhanced.
We must develop and deploy two kinds of diversity: inherent — meaning more women and people of color make up the workforce — and acquired, meaning leaders behave inclusively to foster the speak-up culture that unlocks a broad spectrum of perspectives and toolkits.
In view of the current economic, social and environmental situation in the Arab world, a culture of change and innovation must replace the existing culture of despair. As we stated in the last UNESCO Science Report as I was co-author of its chapter on Arab countries: The Arab world needs more champions of science and technology, including in the political arena, to bring about the positive change to which the region aspires. Those champions must be women and men together and not one without another if we seek for a real change.