‹ Back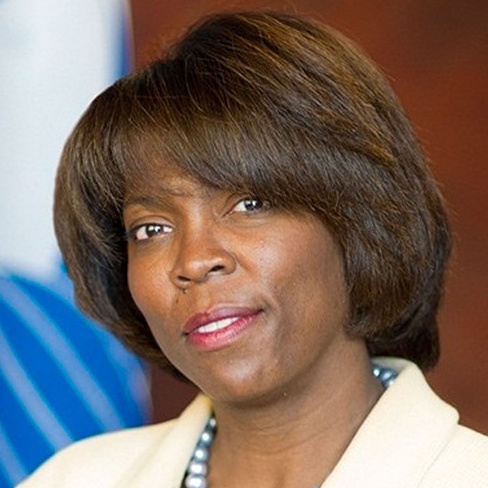 Ambassador Ertharin
Cousin
Payne Distinguished Lecturer, Stanford Spogli Institute
CV
Ertharin Cousin, the Frank E. and Arthur W. Payne Distinguished Lecturer at Stanford University's… (
more
)
Ertharin Cousin, the Frank E. and Arthur W. Payne Distinguished Lecturer at Stanford University's Freeman Spogli Institute for International Studies (FSI) and a contemporaneous Visiting Fellow at FSI's Center on Food Security and the Environment (FSE) was chosen as the Payne Distinguished Lecturer for her international reputation as a leader, with an emphasis on visionary thinking, practical problem solving, and the capacity to articulate clearly an important perspective on the global political and social situation. 
Cousin also serves the Chicago Council on Global Affairs as a Distinguished  Global Fellow.  Cousin possesses more than thirty years of national and international non-profit, government, and corporate leadership experience.
From 2009 until 2017 Cousin led the United Nations World Food Programme (WFP) as the twelfth Executive Director (ED).  As WFP ED Cousin guided the world's largest humanitarian organization with 14,000 staff serving 80 million beneficiaries in 75 countries meeting urgent food needs; while, championing and serving as a global advocate for longer-term solutions to food insecurity and hunger.  Cousin's passionate support for a Zero Hunger World helped deliver a donor funding increase from 3.8 billion dollars in 2012 to 5.86 billion dollars in 2016. Cousin maintains relationships with Global government, business and community leaders. She has published numerous articles regarding agriculture development, food security and nutrition. 
In 2009, Cousin was nominated by the President Obama and confirmed by the Senate as the U.S. Ambassador to the UN Agencies for Food and Agriculture in Rome. In this role Cousin served as the U.S. Representative for all food, agriculture and nutrition related issues. Cousin regularly represented U.S. interest in global leader discussions, regarding humanitarian and development activities.  Cousin helped identify and catalyze US government investment in food security and nutrition activities supported by the USAID Feed the Future program.  Cousin convened foreign media tours resulting in millions of conventional as well social media impressions, highlighting U.S. program investments delivering results for otherwise vulnerable, hungry people.