‹ Back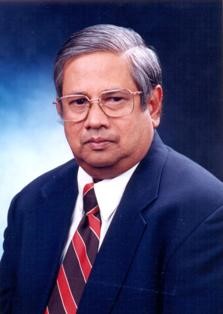 Prof. Mukundan
Champadi Raman
Neuroscientist, former Professor and Head of Clinical Psychology at the National Institute of Mental Health and Neurosciences, Axxonet Research Center, former National Institute of Mental Health and Neurosciences
CV
Dr. C.R. Mukundan was the Professor and Head of Department of Clinical Psychology at the National… (
more
)
Dr. C.R. Mukundan was the Professor and Head of Department of Clinical Psychology at the National Institute of Mental Health & Neuro Sciences, Bangalore. After his retirement from this service, he functioned as the Professor Emeritus at the Institute of Behavioural Science, Gujarat Forensic Sciences University at Gandhinagar, Gujarat for more than 3 years. He then joined as Chairman of Axxonet Brain Research Laboratory at Axxonet System Technologies, the center, which developed and manufactures the Brain Electrical Oscillations Signature (BEOS) profiling system for forensic applications.  Prof. Mukundan was interested from his early days of education in electronics and philosophy, which he later integrated into cognitive neuropsychology.  After joining National Institute of Mental Health & Neuro Sciences" (NIMHANS), Bangalore as a faculty, he developed and set up the clinical neuropsychological examination procedure based on AR Luria's clinical assessment method at NIMHANS for clinical applications in the mid-1970s.  He developed a computerized cognitive retraining program called "Brain Function Therapy" for use with patients with Traumatic Brain Injury, Alcohol addiction, children with learning disabilities, and ADHD etc.  He is a recipient of research grants from NIH (USA) through NAAA, and ICMR (India) and has worked mainly on neuropsychological and cognitive-electrophysiological impairments in patients with Alcohol Dependence, Schizophrenia, and head injury etc. He started working in the area of forensic psychology in the mid-1990s after signing an MOU with the Directorate of Forensic Sciences (DFS), Gandhinagar, Gujarat.  He agreed to set up the "Brain Electrical Oscillations Signature" (BEOS) profiling method for application at the DFS, on which he has been working from the early days.  He collaborated with Axxonet System Technologies, Bangalore for the development and implementation of the BEOS technology.                                                       He has published 4 books and about 100 publications based on research and other scientific issues.  He has been working on the brain – mind theme and his views of the development of the mind are given in his recent book and publications. Regarding the development of BEOS, he preferred to work on the neurocognitive process associated with remembrance instead of polygraph based deception detection and P300 based recognition methods.  Remembrance of a past episode occurs only if one has participated in the activity associated with the episode, and has acquired some specific experience. He received "Lifetime Achievement Award" from All India Institute of Medical Sciences in 2014. He has conducted several workshops and conferences in Neuropsychology – Forensic Psychology in India and a few in UK and other countries. He has been associated with Singapore with regard to forensic psychological investigations for more than one and a half decade. He is currently working on further improvisation of BEOS technology and its application for clinical purposes.
Abstract
Abstract:
Knowing the past experiences of a person, may often be of great benefit for taking care of the… (
more
)
Knowing the past experiences of a person, may often be of great benefit for taking care of the security needs of nation. Conventional methods of understanding this vital information is using deception detection methods and knowing the familiarity with certain specific information related to a persons, places, etc. However, these do not provide information about his past experiences. The test developed is to measure the process of automatic remembrance when one is cued about a past event. The neural activation in the brain shows specific changes during remembrance of an episode, which occur automatically when the person is cued with some details of the event. These changes can be easily elicited without needing any response from the person. They are recorded when remembrances take place when it is automatically cued by the information supplied. Small verbal statements sequentially representing a past event are presented to a person, which he merely listens to without making any response. As remembrance of a past experience of autobiographic episode occurs automatically, the neural changes can be directly recorded in the electrophysiological changes from the scalp of the person. The very high degree of sensitivity and specificity of the method facilitated the use of the technique in several hundreds of real criminal cases. The findings have been always useful in detecting the real participation of a suspect or his innocence. The examiner could make different formulations of the episode and present probes referring to them. The test elicits significant positive information only when the right formulation is presented by probes. Further the test significantly differentiates the different roles of individuals, if more than one person is associated with the event. The examiner must only learn the use of making probes referring to various stages of event or episode, as the analysis is automatically carried out by the system including providing a system generated final report.