Steering Committee Expands WSF Programme for 2017
HRH Princess Sumaya bint El Hassan today welcomed her fellow members of the Steering Committee of World Science Forum (WSF) 2017 to the Royal Scientific Society of Jordan for their second meeting. The Princess, who is Chair of WSF 2017, led the Kingdom's bid to host WSF in Jordan in November this year. The Princess said it was a great privilege for the Kingdom to plan and host the world's most prestigious science forum which is being held in the Middle East for the first time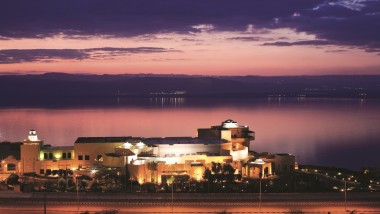 The committee confirmed earlier discussions on exanding the programme of the Forum as the venue chosen for the event, the King Hussein bin Talal Convention Centre at the Dead Sea, is equipped to facilitate an enlarged conversation on the theme of 'Science for Peace'. The 2017 programme will feature eight plenary sessions and five groups of three parallel thematic sessions. The programme will also include a range of side-events and exhibitions. A further meeting was held in the afternoon at the Convention Centre, which is situated less than an hour's drive from Amman on the shores of the Dead Sea. The visit also provided an opportunity to give committee members a tour of the state-of-the-art conference facilities and to enjoy the spectacle of a glorious sunset over the famed salt lake. 
Princess Sumaya used the occasion to express her fervent hope that WSF 2017 would act as a launch pad for cooperation in science, technology and innovation across the Arab world. She said that she was delighted that WSF, and the global attention it attracts, would confirm Jordan's position as a place for dialogue and the exchange of ideas.
WSF 2017 will examine how science, technology and innovation can help to create a sustainable and more equitable future. WSF 2017 will build on a heritage of science engagement and will embrace Arab and Middle Eastern speakers and participants as the world's leading scientists and policymakers make Jordan the focus of attention for debate and discussion.